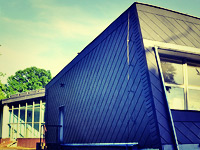 Hotel Golf in Šilheřovice is located in the immediate vicinity of the golf course of 98 hectares. This is a 18-hole golf course. Its history dates back to 1970, when he ran 1. vintage "the Ostrava tournament", which attracted all the then Czech player tip.
Hotel Golf Šilheřovice is a SELF-SERVICE GARNI hotel, which offers accommodation in 20 rooms and one apartment at affordable prices. Another option is the possibility to use the program the amount of bike lanes in the Šilheřovice and surroundings.
Hotel Golf Šilheřovice is also an ideal place for holding wedding receptions, banquets, corporate parties and other events. Available to you for these occasions will be lounge (up to 50 persons), a restaurant with views of the swimming pool (40 persons) or Conference Hall (up to 55 people). We are looking forward to your visit!